I am spending my very first September in Montana and I could not be more excited to watch the colors change all around us on the ranch. Being a native southern California girl, I am fascinated with the progression of fall colors that have been appearing for the past several weeks. Last week I went foraging in the woods near our house and came back with a basket filled with beautiful branches, lovely greenery, and some wild grasses and flowers. I decided to use part of my bounty to make a wreath so today I thought I would share all of the details of how to make a fall wreath from yard clippings.
I'm also joined today by several talented friends who are sharing their fall wreath creations, so be sure to scroll down to the end to see everything!
Don't be intimidated if you don't have a forest of choices in your yard. You can make this wreath using what grows naturally in your area. Shrubs, seasonal flowers, dried grasses, and berries are all fair game!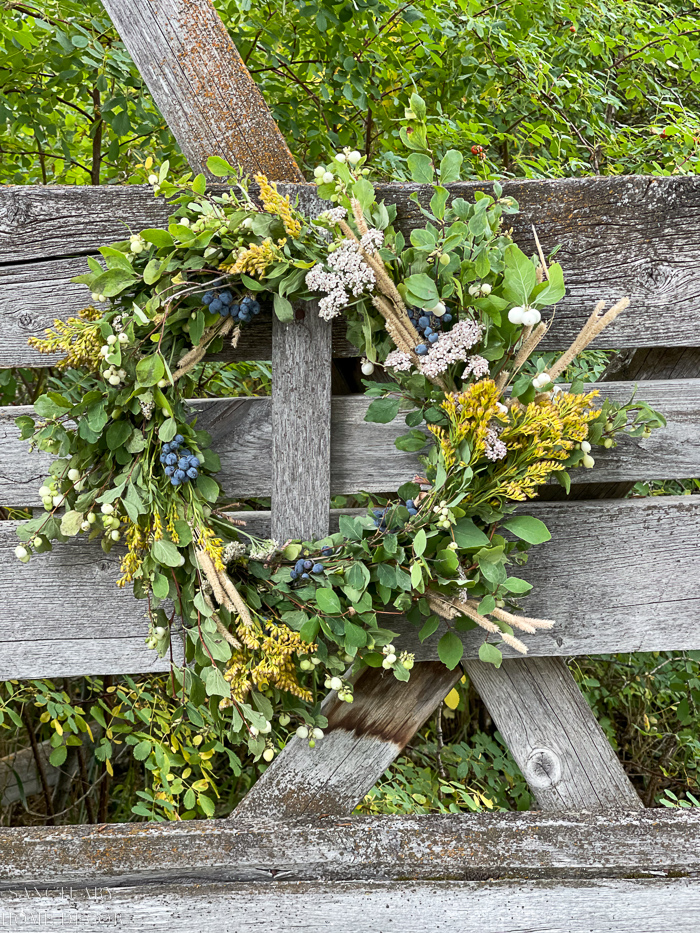 For the base of my wreath, I chose to use yard clippings from the snowberry shrubs that are growing all around the ranch. At this time of year I prefer a wreath that has a green base rather than the typical straw or wheat colors. I decided to use a 10″ metal wreath ring to create the structure of my wreath. You can find this type (or something similar) at your local craft store. You could also use a prefabricated grapevine wreath if the metal frame seems daunting.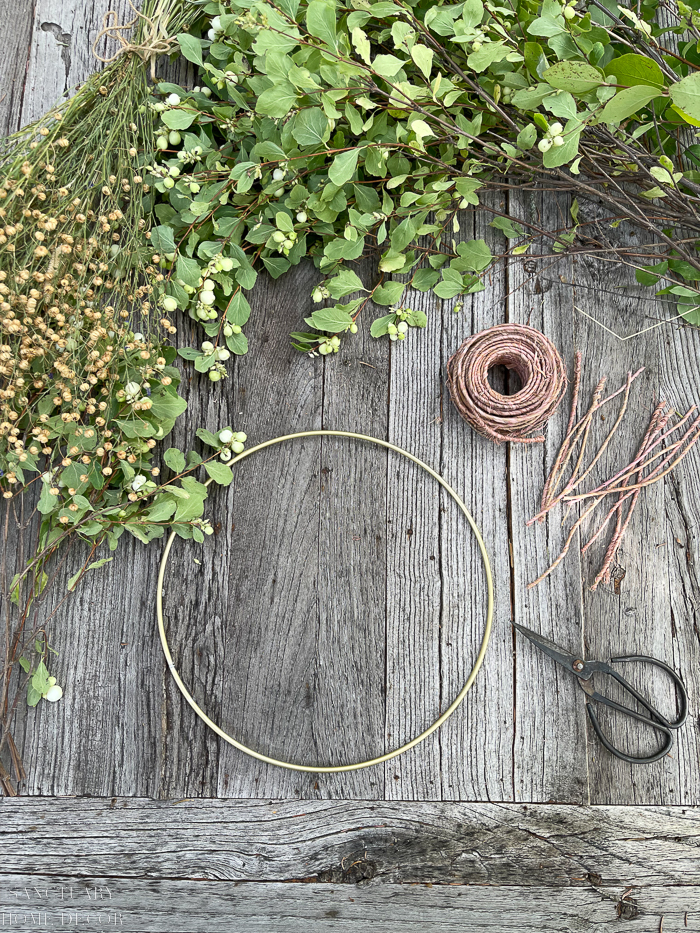 I used 6″-8″ pieces of paper-wrapped floral wire to attach my branches. I started with a piece of snowberry shrub with the lower leaves trimmed off. I tightly wrapped the first branch around the base with wire until it was secure.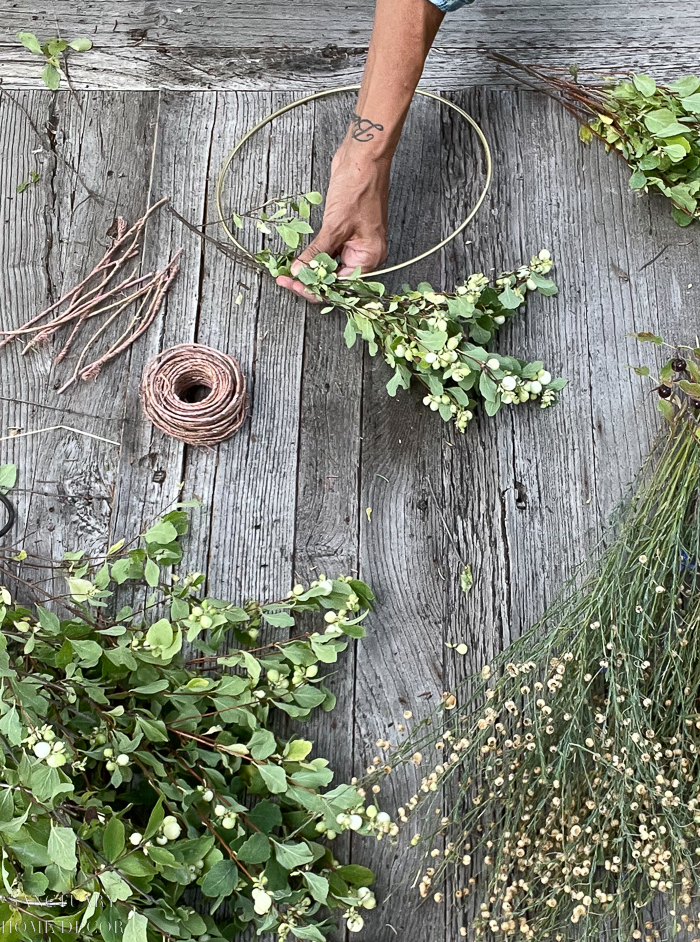 Next, I layered a second branch on top of the stem of the first branch and wired that in the same manner.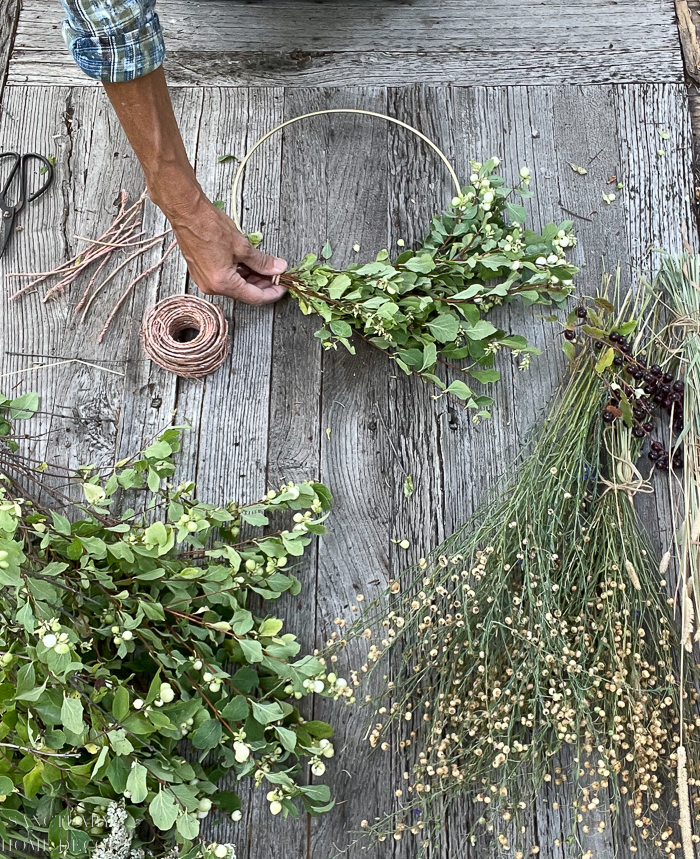 I continued this process around the entire ring, securing the branches as I went.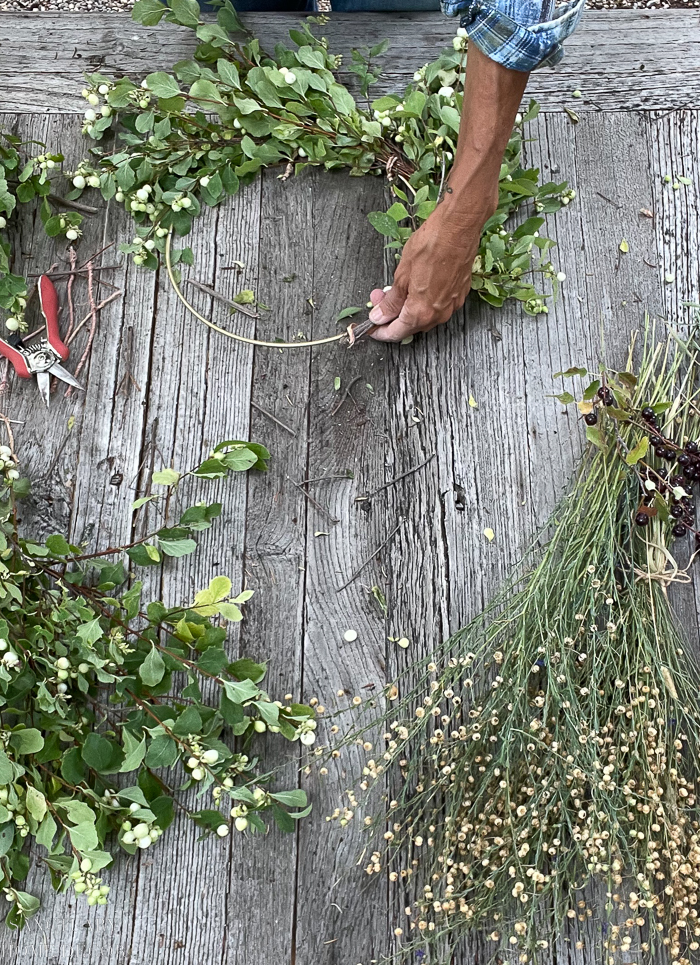 Once the entire ring was covered, I weaved some thin floral wire through the branches in order to secure them more completely and to create the shape I wanted.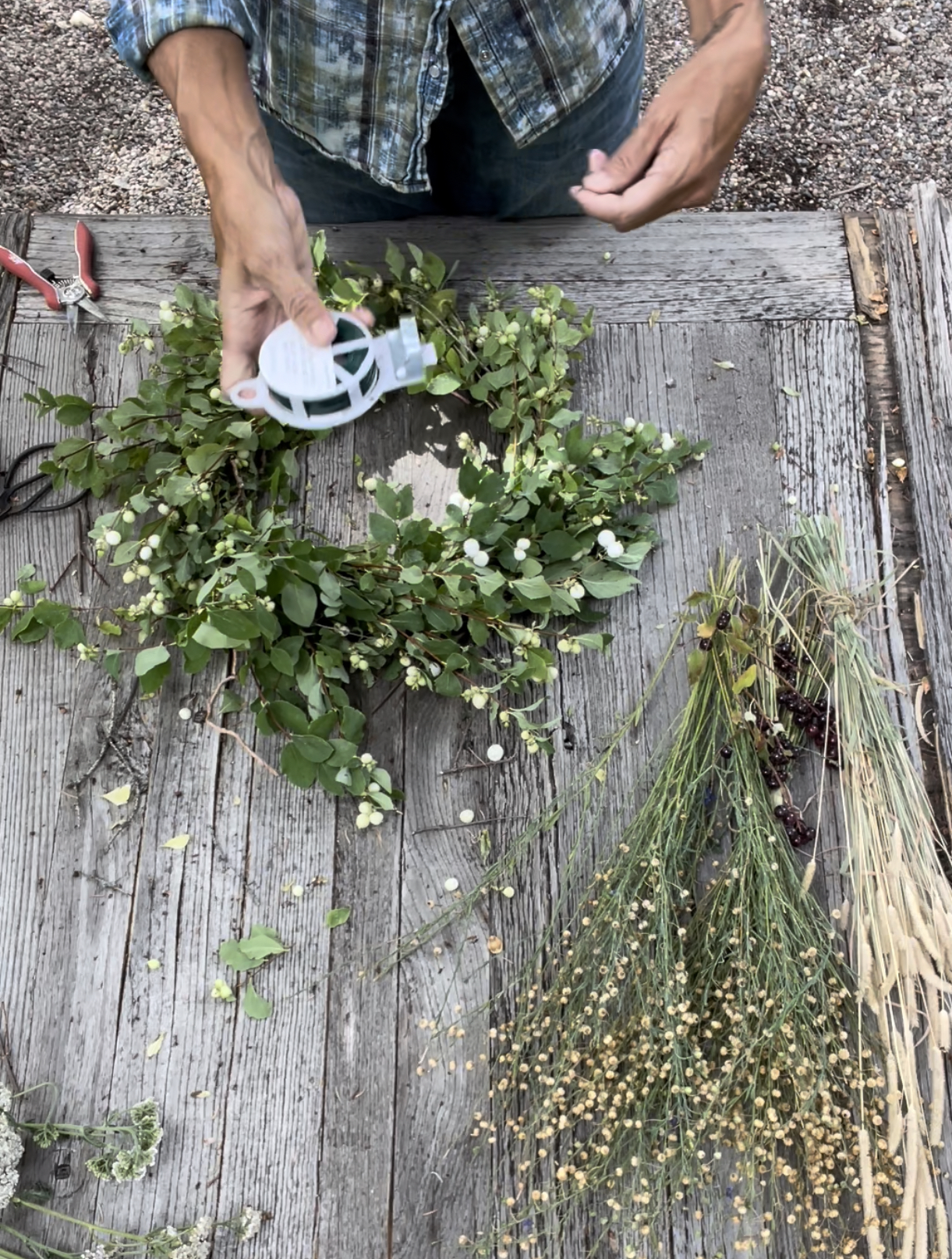 With the base completed, I began adding some of the native wildflowers I found in our yard. White yarrow grows abundantly in this area and it also dries beautifully, so I added several bunches to my wreath. I tucked them into the existing wire and used additional wire if necessary to secure the stems.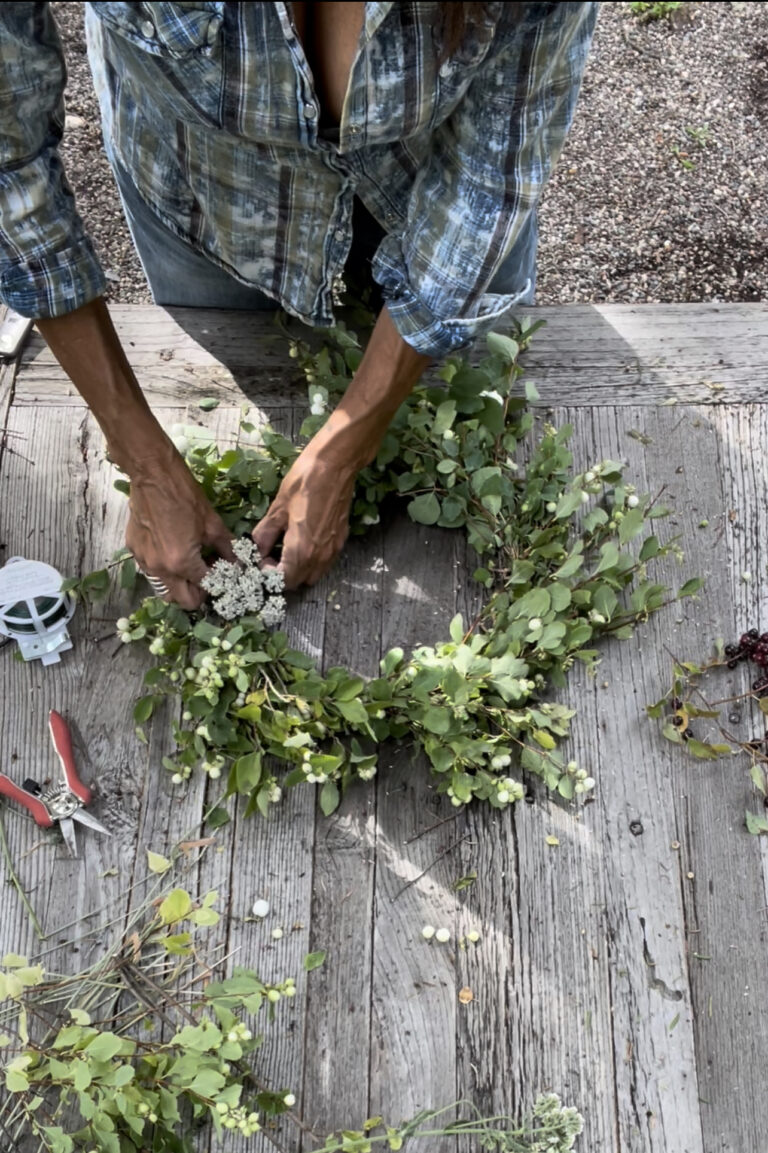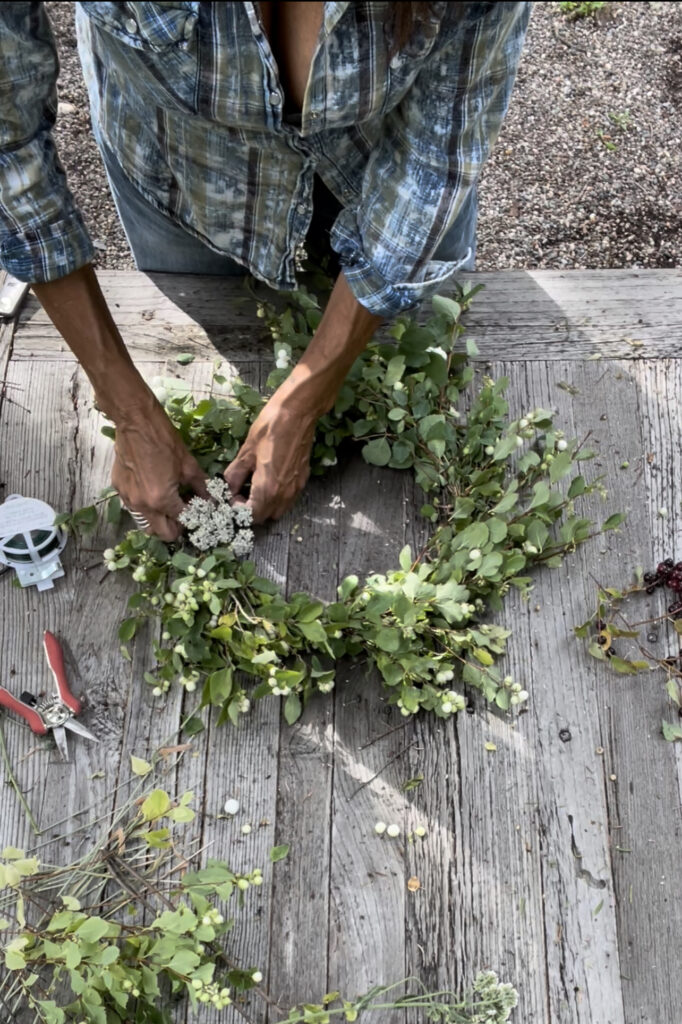 Once I had the yarrow in place, I decided to add some locally grown fall grasses. I picked this timothy grass along the side of the road and tied it into small bunches before tucking it into my wreath.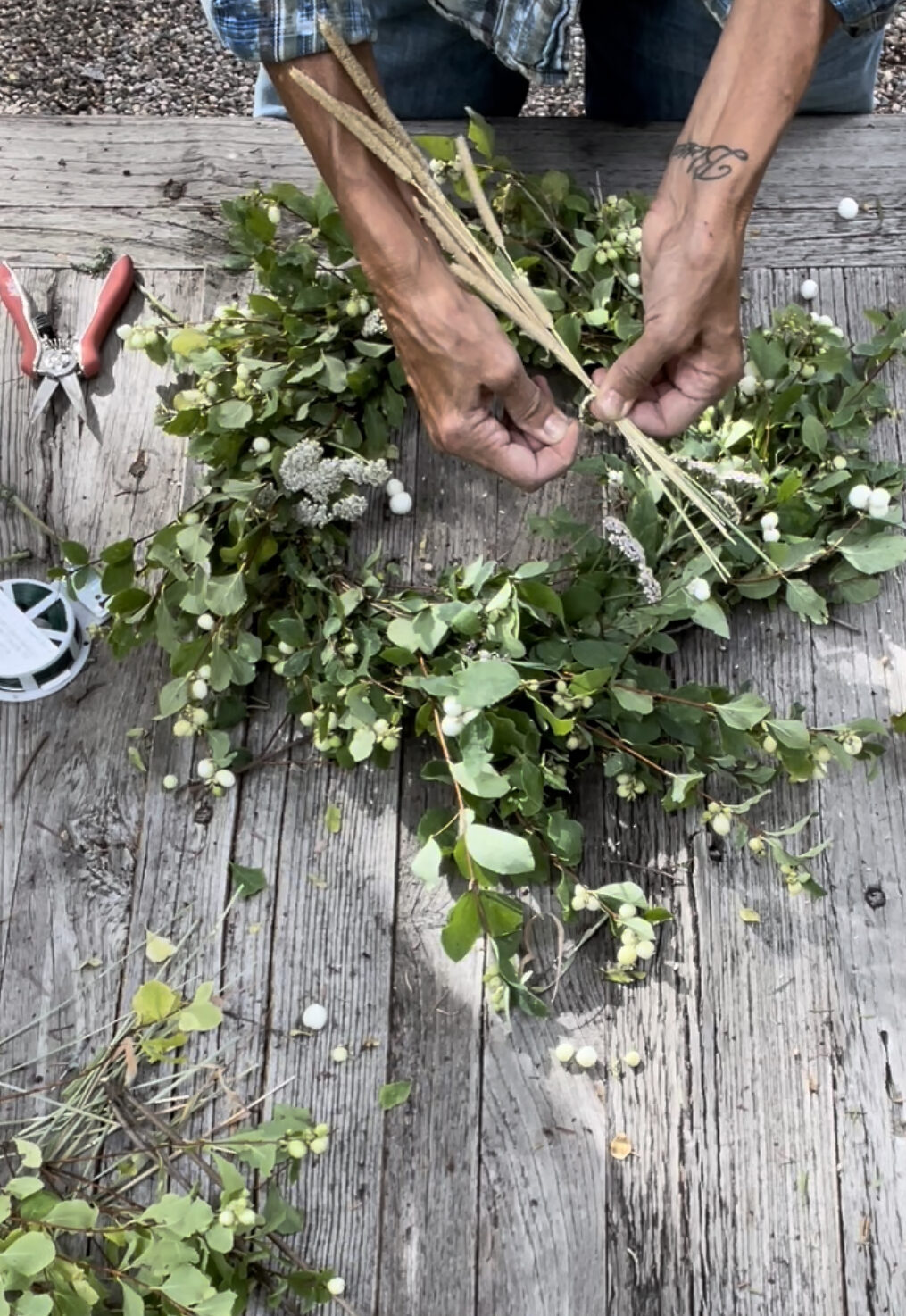 I wanted my fall wreath to have a couple of pops of color, so when I saw the wild goldenrod growing in a corner of the ranch, I grabbed a bunch. Using the same technique, I added 5 large bunches to the open spaces in the greenery.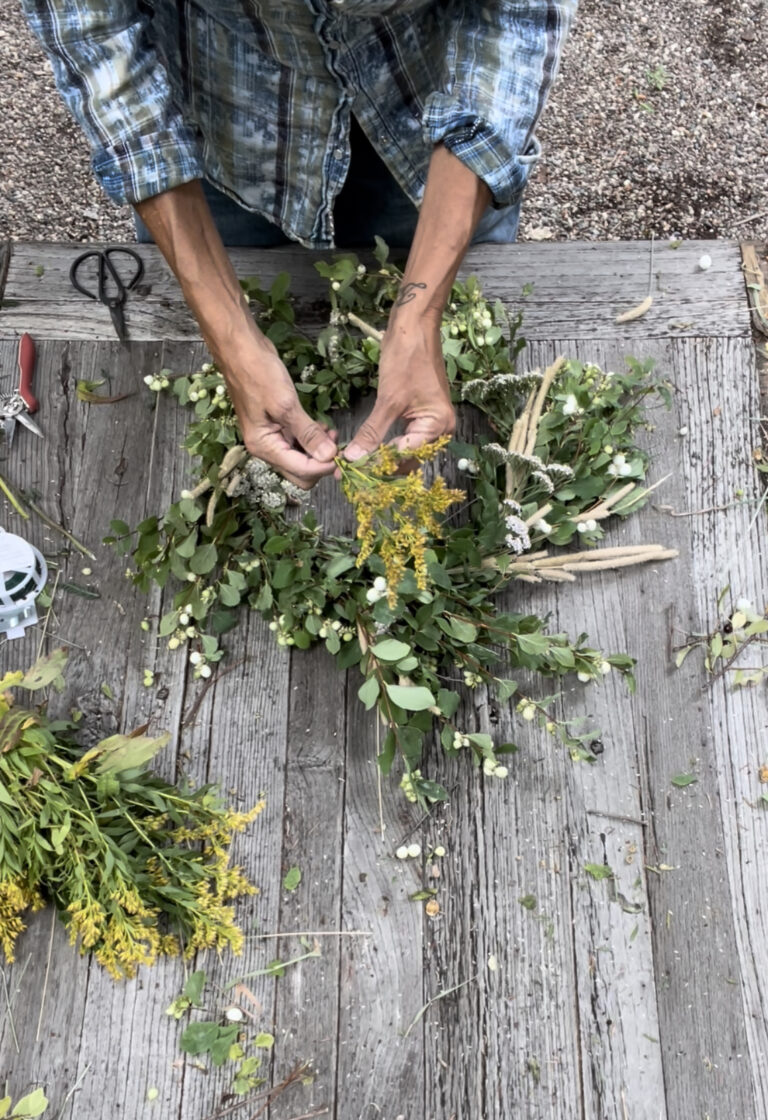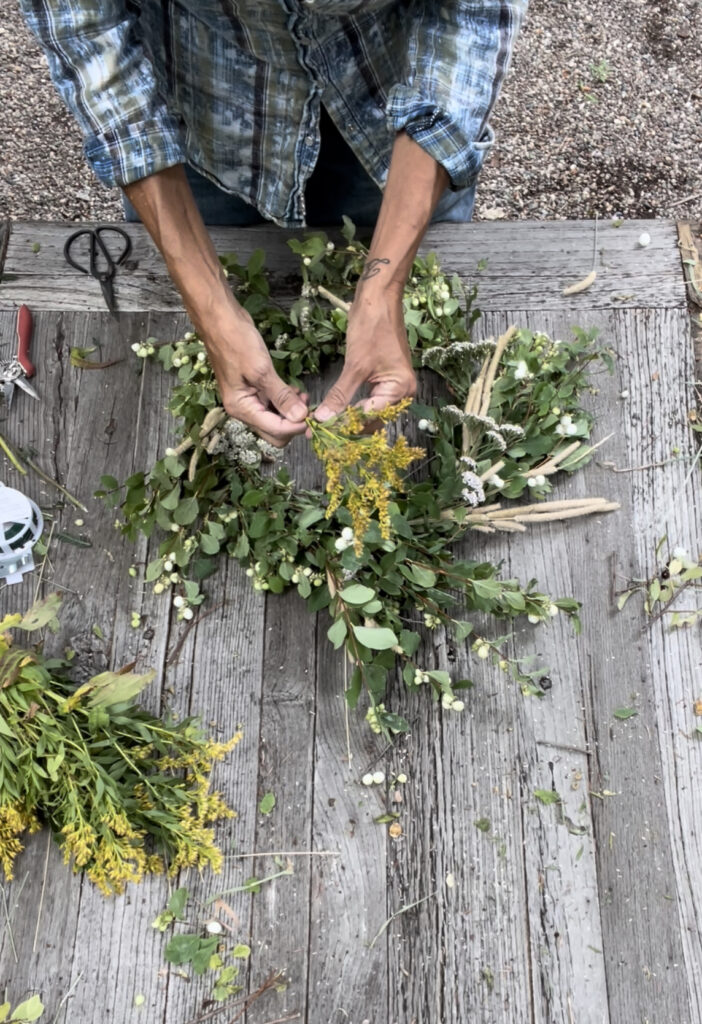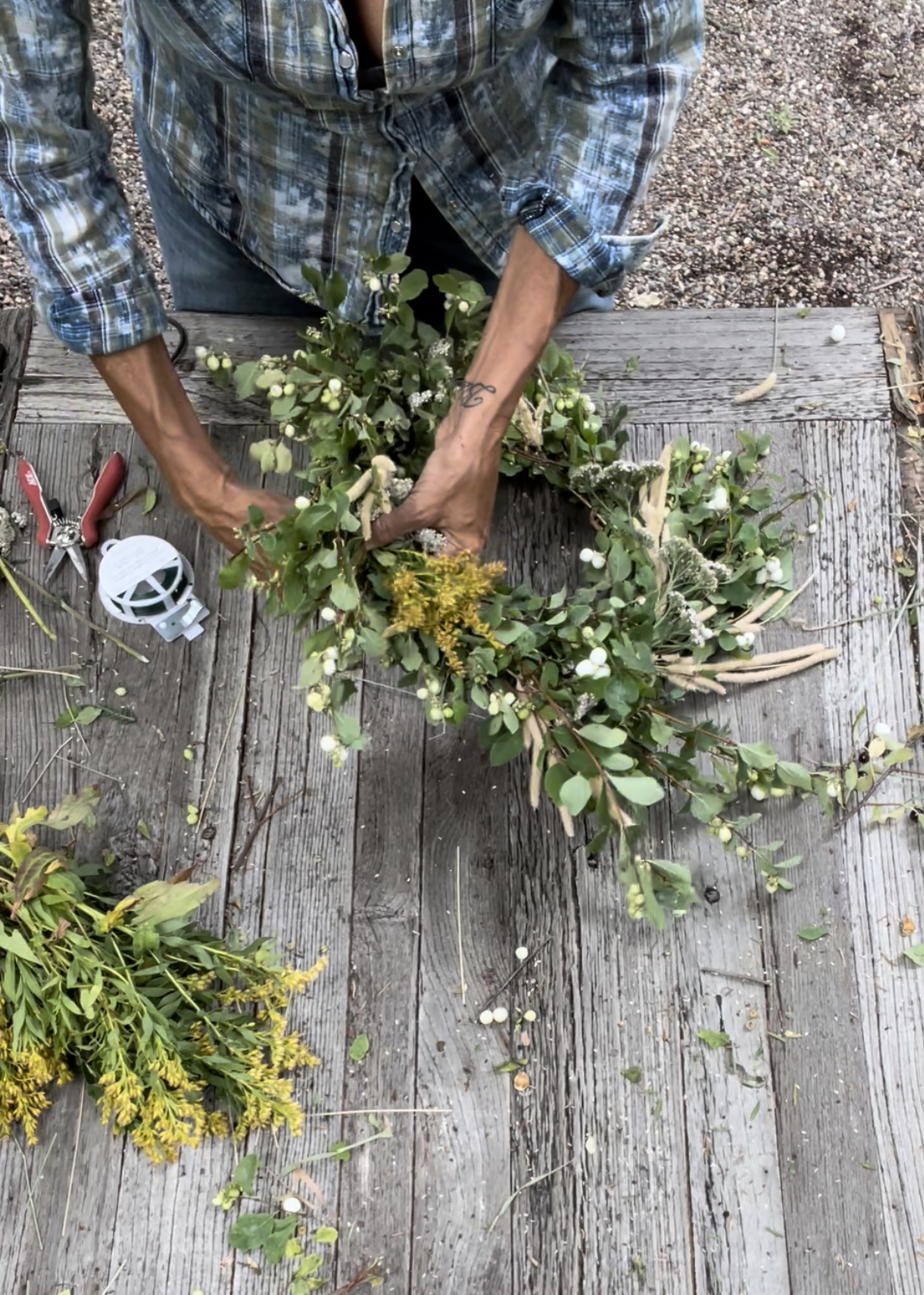 The final touch was the addition of several small bunches of Oregon Grapes. These also grow abundantly in the nearby forest. I had to do some research to discover the name of this plant and while they tase nothing like grapes, I love how they look on my wreath!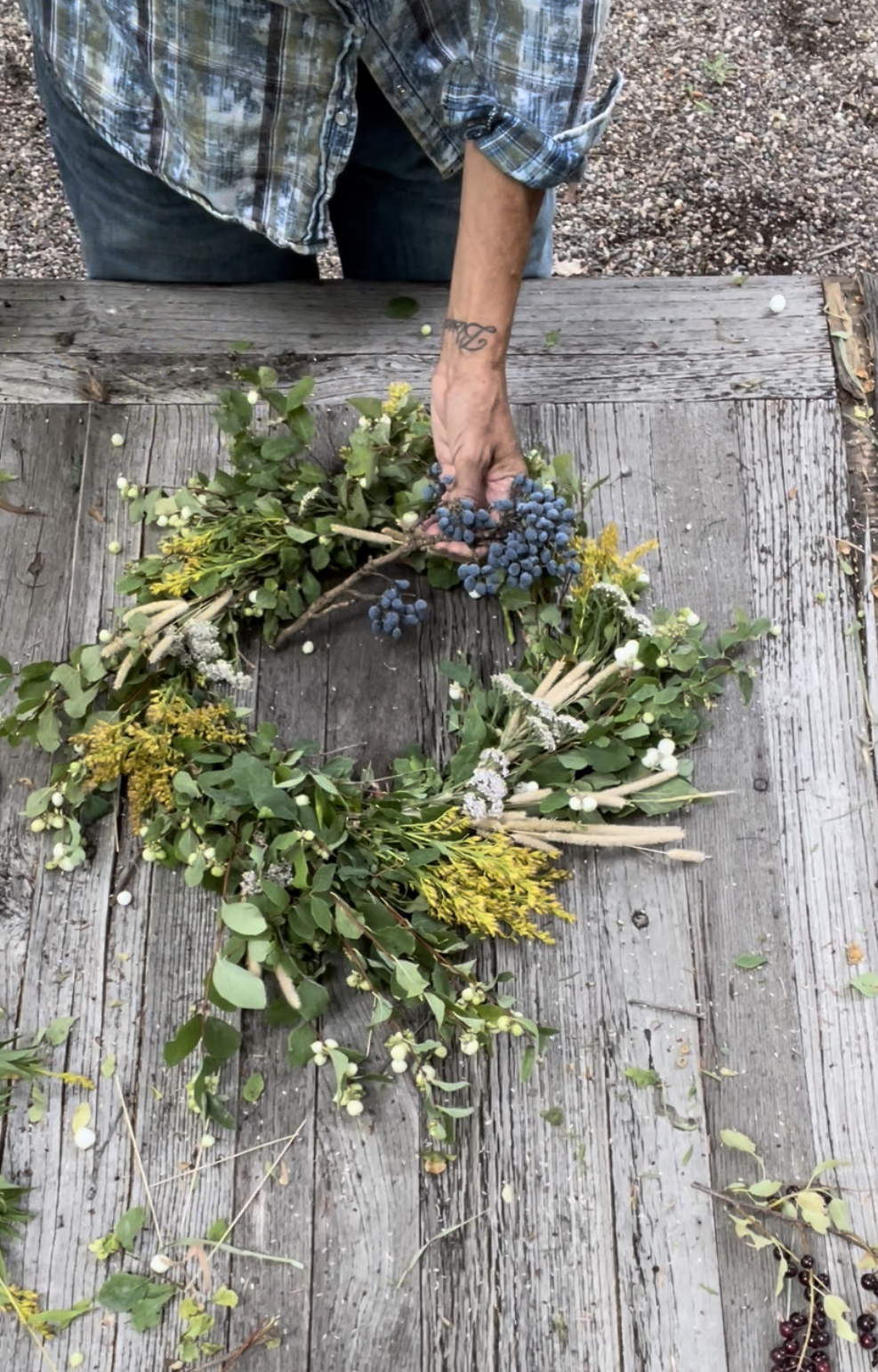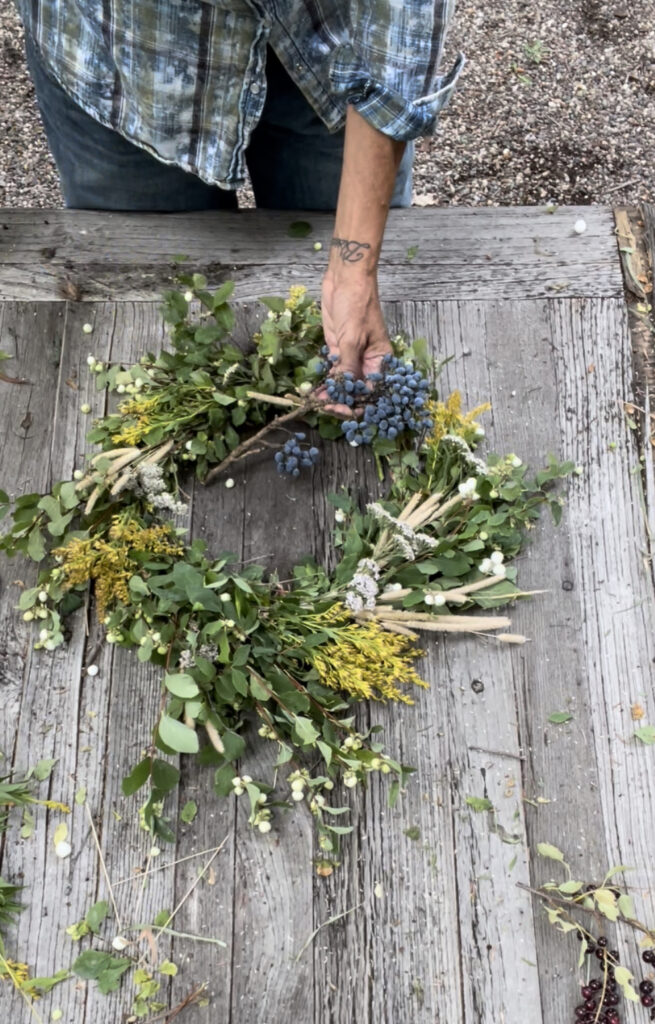 My finished fall wreath was exactly what I hoped for. It exemplified the types of plants that grow naturally in my area at this time of year and was representative of the colors that are abundant in early fall.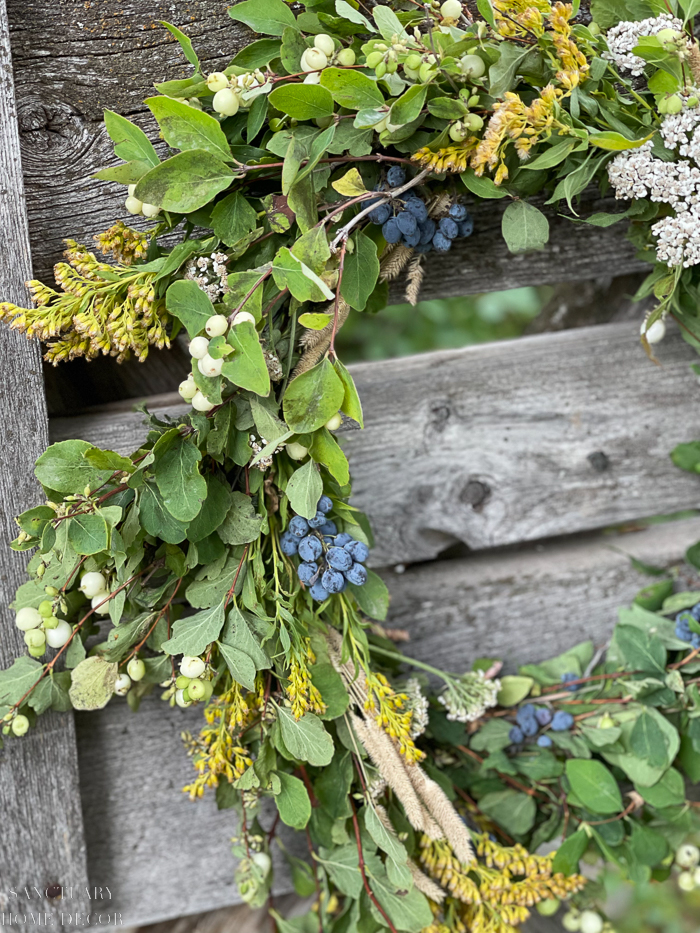 This type of wreath can also be duplicated using yard clippings from your local shrubs and store-bought dried flowers.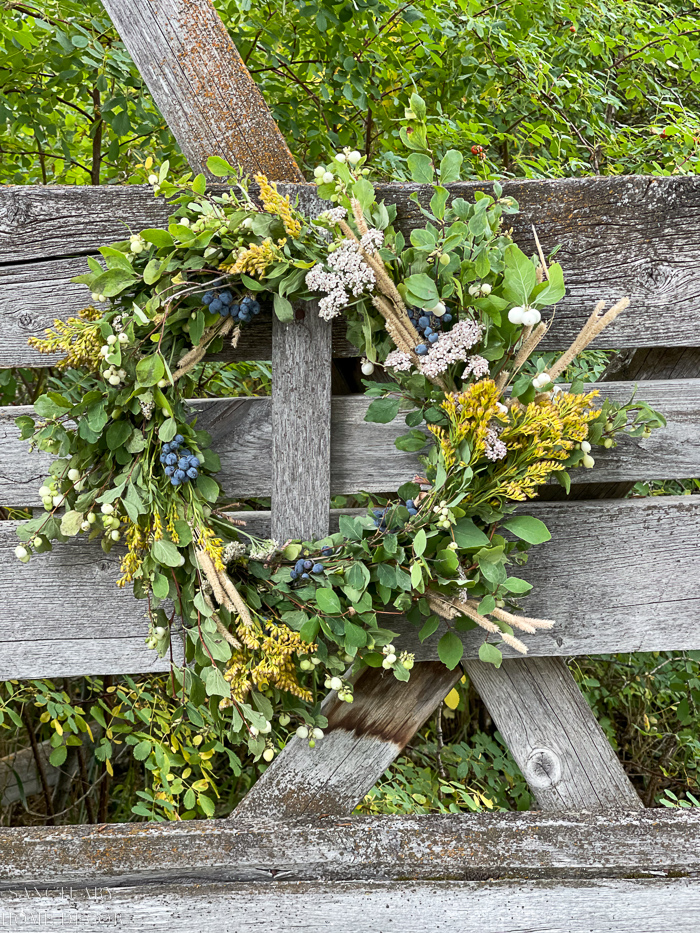 And because I know some of you will be wondering how a wreath like this looks dried, I snapped the photo below a week after I made it. The overall effect was somewhat more muted than the fresh version. The snowberry kept its color and the yarrow and grasses looked the same. The biggest change was the goldenrod, which turned to a more pale yellow. I loved watching this wreath transform into a dried version and think it is equally beautiful either way.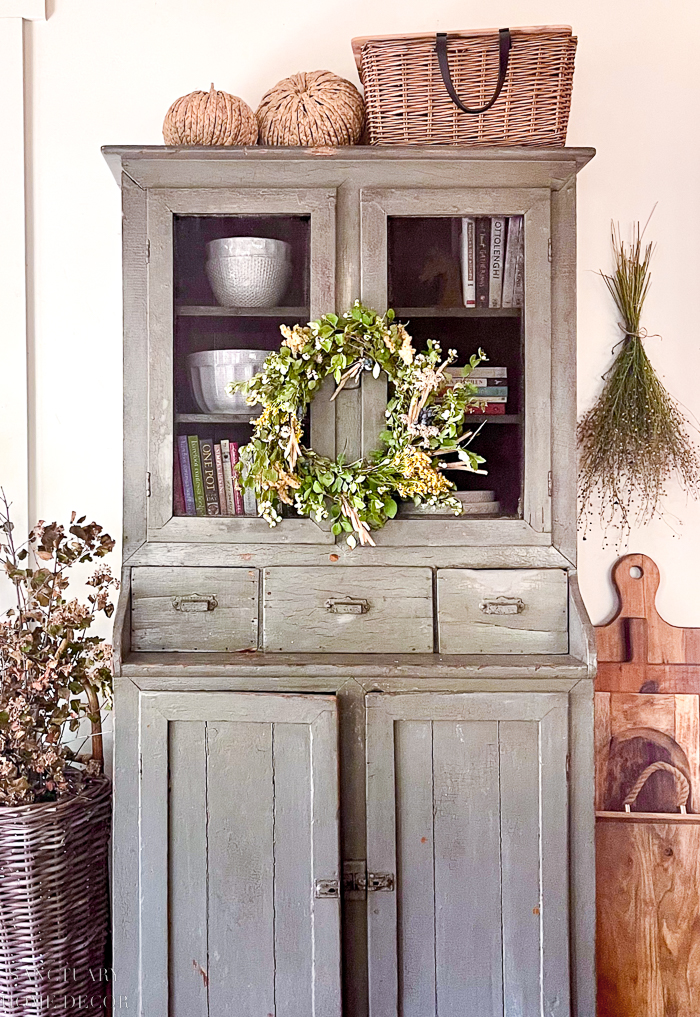 I hope this gives you some ideas about how to make a fall wreath from yard clippings! Now be sure to scroll down to see all of the beautiful wreaths my friends are sharing!
Have a beautiful day!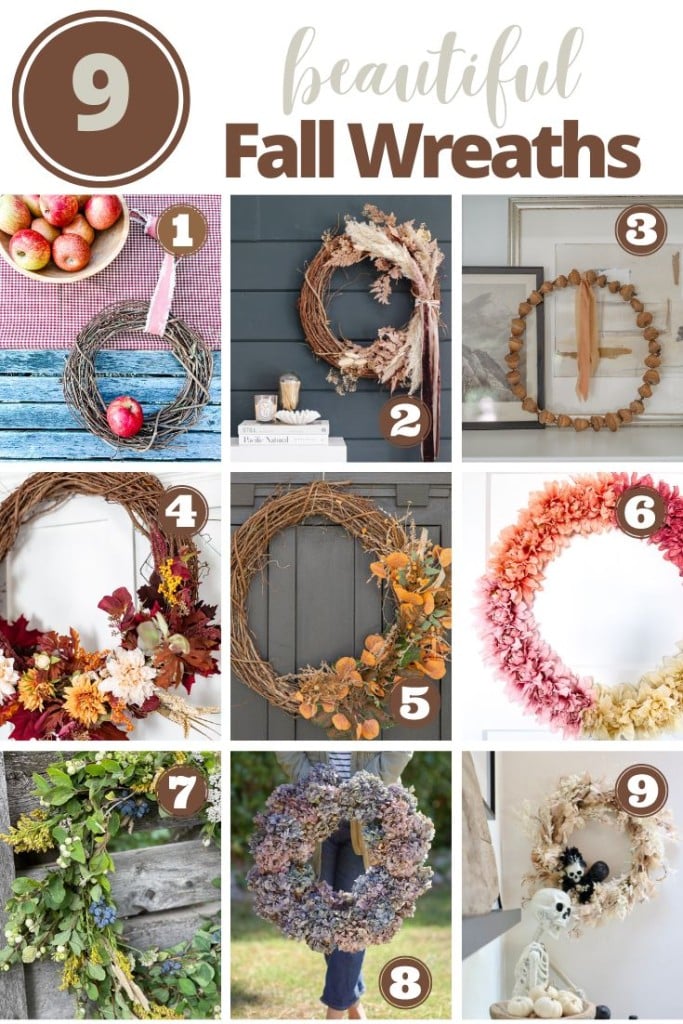 Blogger's Best Fall Wreaths
How to Make a Minimal Fall Wreath | Most Lovely Things
Dried Flower Wreath For Fall | Modern Glam
Fall Acorn Wreath | Finding Lovely
Fall Wreath DIY | Craftberry Bush
Gorgeous DIY Fall Eucalyptus Wreath | Twelve on Main
DIY Dollar Store Fall Ombre Wreath | The Happy Housie
How To Make A Fall Wreath From Yard Clippings | Sanctuary Home Decor
Dried Hydrangea Wreath Tutorial | Happy Happy Nester
How to Make a Chic Halloween Wreath | My Sweet Savannah


Credit : Source Post